Blue Mitchell, an independent publisher, curator, and photographer, will discuss the photographic imagery he creates through unconventional means during a public appearance at Amarillo College.
Mitchell, who incorporates inkjet transfers and burned negatives into the photographic process, will speak at 7 p.m. Thursday, April 19 in the Oak Room of the College Union Building on the Washington Street Campus.
His appearance is free and open to the public.
Meanwhile, Mitchell's work will be on display at AC from April 9 to May 5 in the Southern Light Gallery on the first floor of Lynn Library, directly south of the College Union Building. He has dubbed his exhibit "Evanescent Energy."
Mitchell is a graduate of Oregon College of Art and Craft and has curated and juried several photography exhibitions, created an online photography gallery (platestopixels.com), and launched a fine art photography annual called "Diffusion: Unconventional Photography."
About his latest exhibition, "Evanescent Energy," Mitchell says: "The energy that emanates from our natural surroundings pierces through my exterior senses and into my core being. This intense fervor cannot be cast on film alone, but with the use of fire I've found a way to recreate the almost metaphysical underpinning of nature, myself and the invisible effervescence around us."
For more information about Mitchell's exhibition or appearance at AC, contact Rene West, AC instructor of photography, at 806-345-5654.
a new version of me, originally uploaded by Blue Mitchell.
Via Flickr:
variable edition c-prints coming soon
8″x32″ originals
ISTORIA is a national juried and invitational exhibition that will showcase the various styles characterizing contemporary narrative photography. As narrative photography moves the image beyond a simple representation, the works will serve as interpretations of modern allegory while acting as vehicles for visual communication.
Pinky Bass, Julie Blackmon, Brianna Burnet, Elizabeth Claffey, Beau Comeaux, Thea Augustina Eck, Hans Gindlesberger, Carol Golemboski, Steven Joshlin, Nate Larson, Ann Mansolino, Blue Mitchell, Kenda North, Steven Rubin, Jes Schrom
September 1 – 25
Opening Reception: Thursday, September 1, 6pm – 9pm
UTSA Satellite Space
115 Blue Star
San Antonio, Texas 78204
In conjunction with the Society for Photographic Education 2011 South Central Conference and Fotoseptiembre.
AUGUST 13, 2011 THROUGH OCTOBER 02, 2011
Evanescent Energy – Blue Mitchell
Artist Reception – August 13th, 5-9pm
AUGUST 13, 2011 THROUGH OCTOBER 02, 2011
"I have a strong desire for the hand to express more than the simple reconstruction of fleeting time often depicted in photography. The energy that emanates in our natural surroundings pierces through my exterior senses and into my core being. This intense fervor can not be cast on film alone, but with manual degradation I've found a way to re-create the almost metaphysical underpinning of nature, myself and the invisible effervescence around us."
Photo
⊕

Craft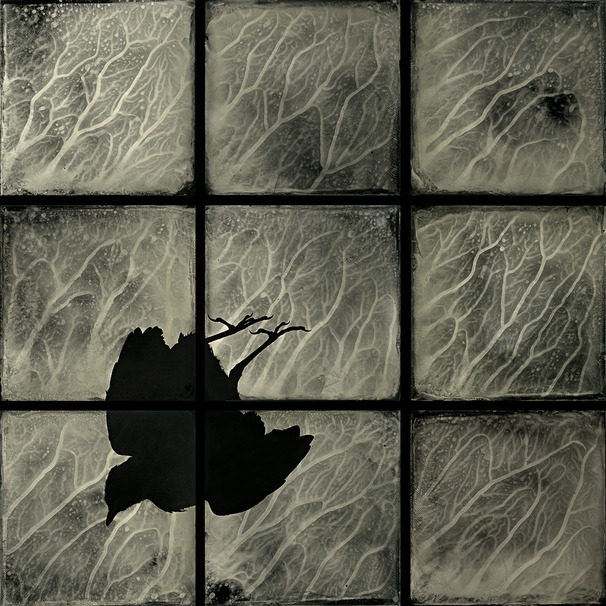 When the Bough Breaks by S. Gayle Stevens
Artist Reception – August 13th, 5-9pm
This group show celebrates our appreciation of the finest in photographic imagery and process.
Juried by Blue Mitchell in collaboration with Michael and Chelsea Granger (LightBox)
 Juror's statement:
"When I think about craftsmanship, I'm interested in the full process of the work, from ideation to capture, from print production to final presentation. I've said it many times, but I enjoy seeing the artist's hand in work. There are so many tools available to photographers and I'm encouraging those who think outside the viewfinder to submit their work. This show will be an extravaganza of sorts, celebrating the strongest voices of photo-imaging from across the country."
Dream Allegory curated by Blue Mitchell
In "Dream Allegory" I was inspired by visual images that go from tangible physical reality to dreamlike symbolism. The artists chosen for this exhibit all have different photographic methods and voices, but they are intertwined by a thread of dreamy symbolism and style. To accentuate the parable, all the work in the show is monochromatic, simplifying visual clutter to focus on symbolic implications. This exhibit allows us to see beyond the surface and diving into our dream lore.
Whether the artists is capturing a specific place, people, animal, emotion or creating their own mythos, as a whole, we're treated with a visual journey into night, like following the white rabbit down the hole of our collective unconsciousness.
Exhibiting Artists
Coming in March to:
Lightbox Photographic Gallery & Fine Printing 1045 Marine Drive Astoria, Oregon 97103 503-468-0238
http://lightbox-photographic.com
more info to come.
Originally posted at Diffusionmag.com
Ever since I began studying photography I've been told that 'some day you'll be good enough to show your portfolio at one of the great photography reviews that happen across the country'. I always sorta poo-pooed the idea as a student because for some reason I thought I didn't need "professional" people telling what they liked, didn't like, and how I could improve. I felt the most constructive criticism would come from my peers, those who were sitting along side me in this adventure, not from those looking down and handpicking the next trend or photographic Basquiat. I've always been a big fan of Creating Your Own Way.
What I didn't understand was that those "professionals" WERE my peers. They may be just like me, they may have created their own way as well, they may be (or once been) a budding artist, galleriest, publisher, etc in their own right. In recent years I've discovered that sometimes these reviewers have really giving some great emerging photographers a chance at getting more exposure. If nothing else, the photographer has a chance to talk to professionals in their field about what sorts of things they look for. Say what you will, art IS a business. There are egos, favoritism, brown-nosing, and everything else that comes with any business – the difference is, these people really do care about good art, and sometimes even bad art, but that is another story.
This past month I finally attended my first portfolio review, but not as a reviewee, instead I was asked to be reviewer at PhotoNola 2010. I can honestly say that it was such an honor to be invited and I'm grateful to actually have opportunities available to some of the photographers in attendance. I've been looking at portfolios in droves since I established Plates to Pixels gallery (platestopixels.com) and of course my newest project Diffusion. After a few years of doing so I'm still excited to get that cd of images in the mail – it's like my birthday! However, seeing the work in person is always preferred, and there's no better setting than in a conference room with an open portfolio on a table, REAL prints, and face to face with the artist! I'm a very hands on person, those who know me understand my desire and interest in seeing the artist's hand in their work, I can't say it enough! I love the interaction created between viewer and artist when they both can see a tangible human connection.
I love the interaction created between viewer and artist when they both can see a tangible human connection.
Art to me is very emotional, even when it lacks it – there's almost always something I can feel, even if it's disappointment. But I digress, my point is I love having the tangible conversation with the art and artists who created it, which is why PhotoNola was so inspiring and exciting for me, not only as a portfolio reviewer but as an artist as well. It was also nice to meet some of the people behind the work I was so familiar with. This past year I was introduced to Lori Vrba's work because we were both fortunate enough to be juried into the The Light Factory Third Juried Annuale. (The caliber of work in the show was quite diverse and made for a very intriguing photography show). To my good fortune, on the first day of reviews, Lori Vrba is the first to sit down at my table (dumb luck actually, she wasn't on my original schedule) and I was pleased have a peek at her new body of work the Piano Farm – what a great way to start my first leg of this new adventure! Coincidently she also had a one night exhibit in town on Sunday which was like the icing on the cake of an already fabulous weekend. Anyway, the next two days of reviews flowed so well I felt I could have done them for another few days. You're sure to see some of my reviewees in upcoming NW exhibits, in Diffusion Volume III & IV, and at Plates to Pixels Gallery.
A HUGE shout out goes to the staff working PhotoNola 2010, your passion and dedication for this project is relentless and should not go unnoticed. Your volunteering, organizing, and dealing with a bunch of high-maintenance artists and reviewers is exceptional. My hats off to you!! Thanks for making my first portfolio review, and trip to New Orleans, such a memorable one!
Oh and L+V…thanks for making me feel like a rock star, your checks in the mail.
See Jennifer Schwartz's post on the Piano Farm exhibit here: http://littleurl.info/farm and read David Bram's (Fraction magazine) review of the wonderous exhibit here http://littleurl.info/dbonfarm
To be continued…
installation photos by Mitchell Kearney
"The lone outsider in the show (geographically speaking) is Blue Mitchell of Portland Oregon whose inclusion shakes things up via his paradigm stretching printing techniques and unconventional methods.  Burnt transparencies have become a specialization of his of late and while the term itself might make many photogs shudder, Mitchell is fearless in his pursuit of striking images that bubble (literally) with primordial effects.  The effect is a hypnotic one imparted directly by the artist's hand to lends a certain lenticular spectrality approaching the psychedelic."  ~DAVE DELCAMBRE
The Light Factory Third Juried Annuale
Free and open to the public
April 19 – August 15, 2010
Knight Gallery
About the Exhibit
With this annual competition, The Light Factory asked photographers and artists throughout the world to submit their most challenging and inventive work for an exciting exhibition.
These winners have been selected from more than 130 entries:
Nicholas Dantona (Franklin, TN)
John Grant (Charlottesville, VA)
Diana Greene (Winston-Salem, NC)
Aspen Hochhalter (Charlotte, NC)
Blue Mitchell (Portland, OR)
Lori Vrba (Chapel Hill, NC)

Message from the Juror, Alex Nyerges, Director of the Virginia Museum of Fine Arts
The Light Factory Third Juried Annuale is an amazing collection of talent assembled from across the country.
With more than 130 talented photographers, it was challenging to winnow the field down.  It was especially difficult when there were only a dozen photographers remaining in the pool.  Selecting the final six was even more daunting.  In the end, I am sure that the visitors to this exhibition will be pleased with both the quality and variety.
It just so happens that the final artists are evenly divided between traditional media – especially gelatin silver prints – and more cutting edge media in the realm of photography.  The variety speaks to that of the field as a whole, a testimony to the vitality of photography in a new age where film and digital media have found themselves in complementary not competing roles.
I am also thrilled that so many of the half dozen artists selected are North Carolinians and Southerners; this speaks volumes to the state of photography in the South.  Photography here, as elsewhere, has taken its rightful place as a major medium in the fine arts, something that has been far too long in coming.
I offer my congratulations to the six stellar artists who are exhibited here and to all those who submitted to The Light Factory Third Juried Annuale competition.
The Light Factory Third Juried Annuale winners have been announced! From approximately 130 entries from all over the world, our juror, Alex Nierges, Director of the Virginia Museum of Fine Arts, has selected the following six photographers:
Nicholas Dantona (Franklin, TN)
John Grant (Charlottesville, VA)
Diana Greene (Winston-Salem, NC)
Aspen Hochhalter (Charlotte, NC)
Blue Mitchell (Portland, OR)
Exhibition which runs April 19th – August 15, 2010 in Charolotte, North Carolina, more info to come. www.lightfactory.org